Celebrate BC Wine Month (and beyond) in Kamloops this Spring.
Calling all food and wine lovers! Kamloops is a burgeoning up and coming destination for foodies and wine enthusiasts. With a thriving culinary scene, Kamloops offers a diverse selection of restaurants focusing on locally sourced, and farm-to-table menus that showcase the region's bounty. Paired with the region's own Thompson Valley wine appellation and you have a match made in heaven for any food and wine aficionado. The wines produced  in the Thompson Valley are a reflection of the area's unique terroir, boasting quality fruit, vibrant acidity, tantalising aromatics, and a balanced palate.
Kamloops takes pride in its local flavours and ingredients, creating a unique taste of place. From farm to fork, vine to glass, visitors can immerse themselves in the aromas, flavours and culture of the food and wine scene in Kamloops.  With award-winning wineries that showcase a unique local terroir, and restaurants that source fresh, local ingredients to create mouthwatering dishes, Kamloops will tantalise your taste buds. Think locally sourced young spring lamb with pinot noir where the bright acidity and red cherry fruit notes in Pinot Noir act as a wrap-around to the earthy richness in lamb. From the first sip to the last bite, the taste of Kamloops is one that will leave a lasting impression on your palate.
Drooling? Us too; let's dive in!
Monte Creek Winery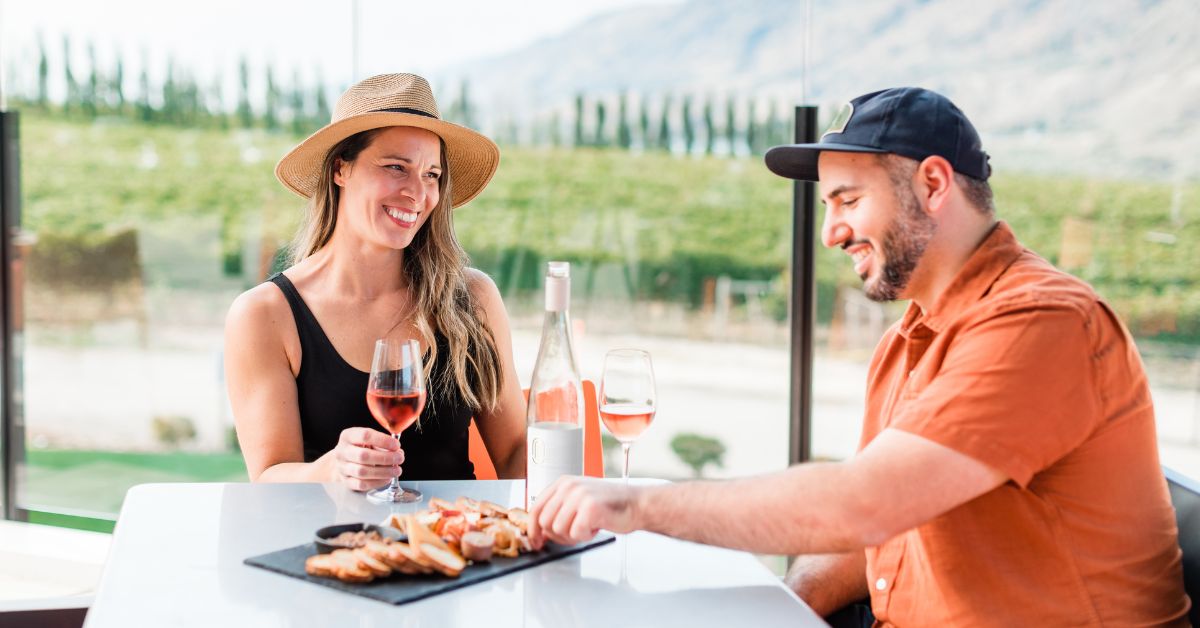 A destination winery, Monte Creek Winery is perched on the hillside above the South Thompson River and acts as a beacon for gathering. With a focus on sustainable farming, Monte Creek's wines are a celebration of purpose and place. They produce wines that reflect the terroir of where the vines are grown, which is reflected in their new Ancient Waters series and Living Land series. The spacious tasting room offers picturesque views, and the Terrace Restaurant showcases bountiful food paired with wine-inspired cocktails like their extremely popular adult slushie, Frosé.
Privato Vineyard and Winery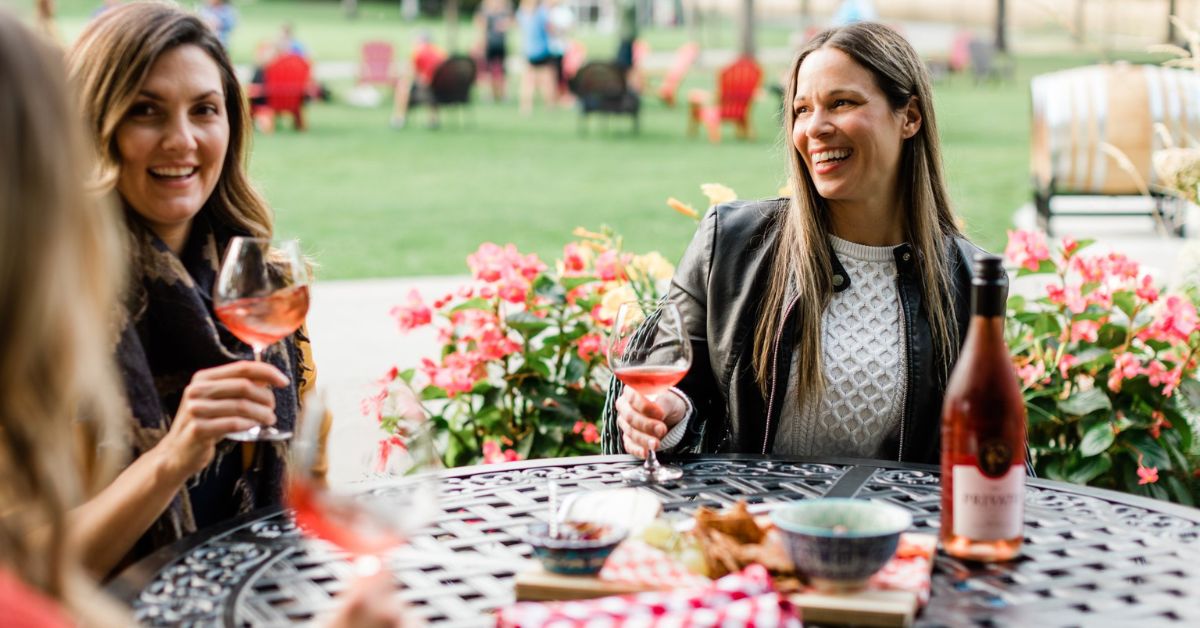 Privato Vineyard and Winery is another gem in Kamloops' wine scene. This family-owned boutique winery has been producing exceptional wines since 2013, using both estate-grown grapes and fruit from the Okanagan region. Their commitment to showcasing the unique British Columbia and Thompson Valley terroir is evident in every bottle. In addition, visitors can also build their own picnic basket with locally sourced meats and cheese to enjoy in the beautiful wine gardens.
Harper's Trail Winery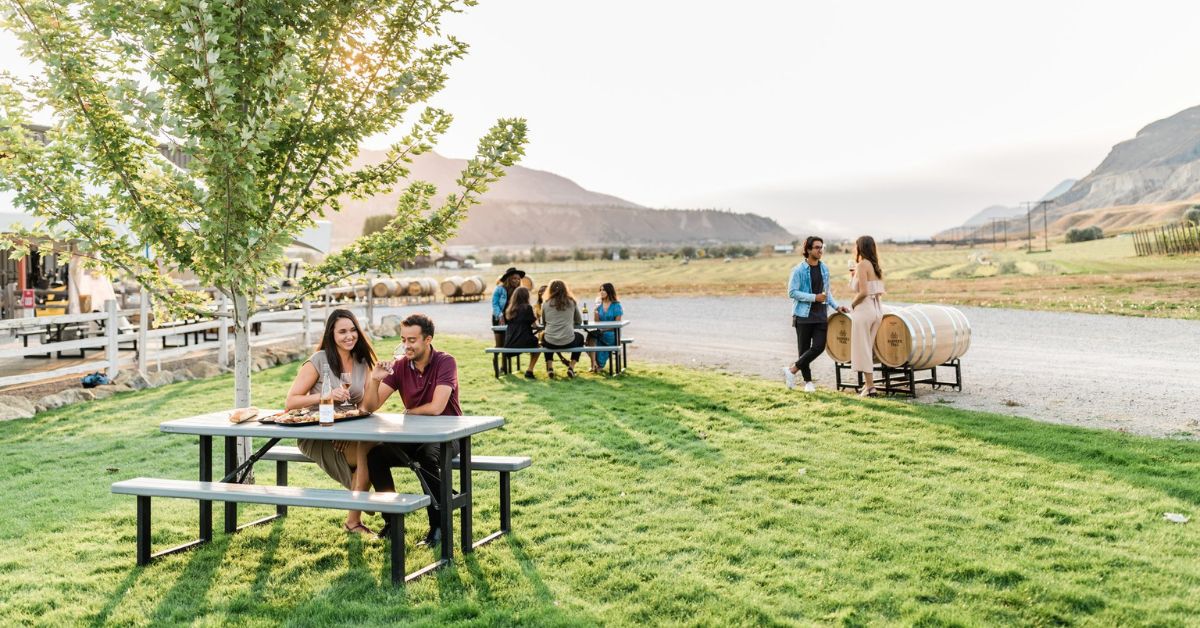 Harper's Trail Winery, a family-owned winery, has been producing premium wines since 2012. Their award-winning wines exemplify the Thompson Valley's terroir, featuring crisp aromatic wines with bright acidity, complexity, and balance. This year marks the final season for current owners, Vicki and Ed Collet's, before retirement, adding a bittersweet feeling to the already unforgettable experience of savouring (and stocking up on) their wines. The winery will be open every Friday, Saturday, and Sunday in May including a happy hour special with live music on Fridays from 5pm to 7pm. They will also have locally-sourced charcuterie options that complement the wines perfectly.
Now let's dive into the local culinary scene for a taste of Kamloops. Here's where to find some creative bites and local sips showcasing the best of the region: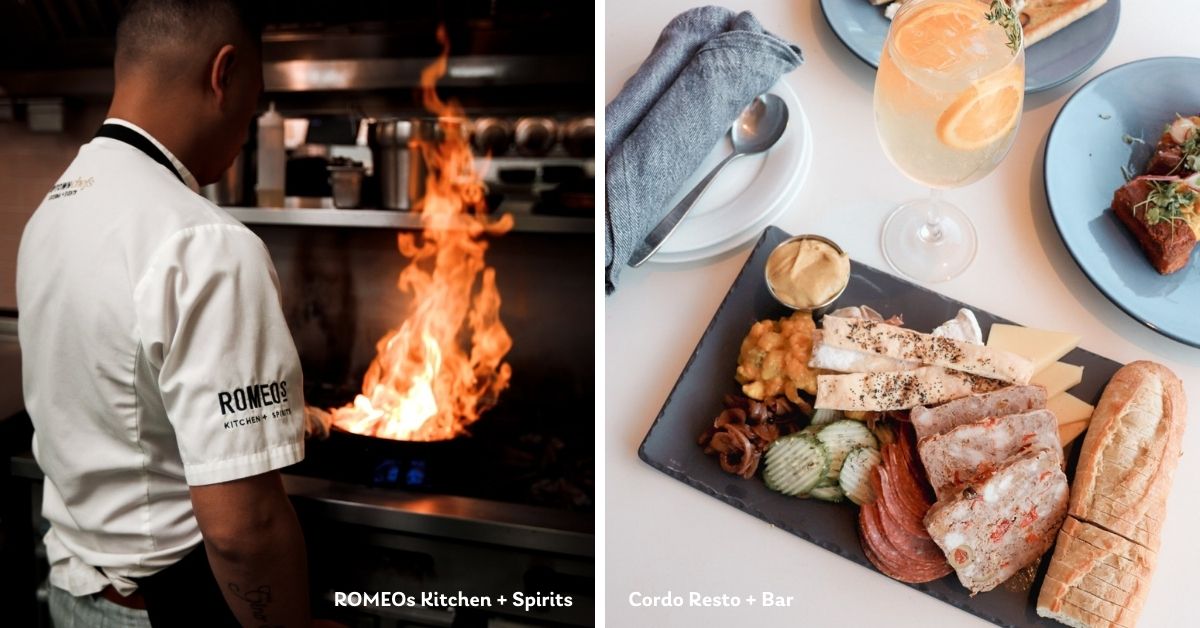 ROMEOs Kitchen and Spirits
Whether he's sourcing out local produce or working with experts in the ranching community to give guests the best and most local quality ingredients, Chef Romeo Oloresisimo and his team at ROMEOs Kitchen + Spirits aim to deliver an exciting dining experience with a cultural twist. Furthermore, with a diverse and rotating selection of Kamloops wines, you can sip and savour to your heart's content.
Cordo Resto + Bar
The name Cordo is derived from the geographical word Cordillera and reflects the restaurant's aim to celebrate this unique and beautiful region and the bounty it offers. Cordo Resto + Bar features the best flavours and products from the Thompson Okanagan region; paying homage to the rich diversity that comes from the land, water and people.  The food is prepared in an innovative and nutritious manner inspired by our region and the season incorporating fresh herbs, local produce and an impressive selection of local Kamloops wines to pair with.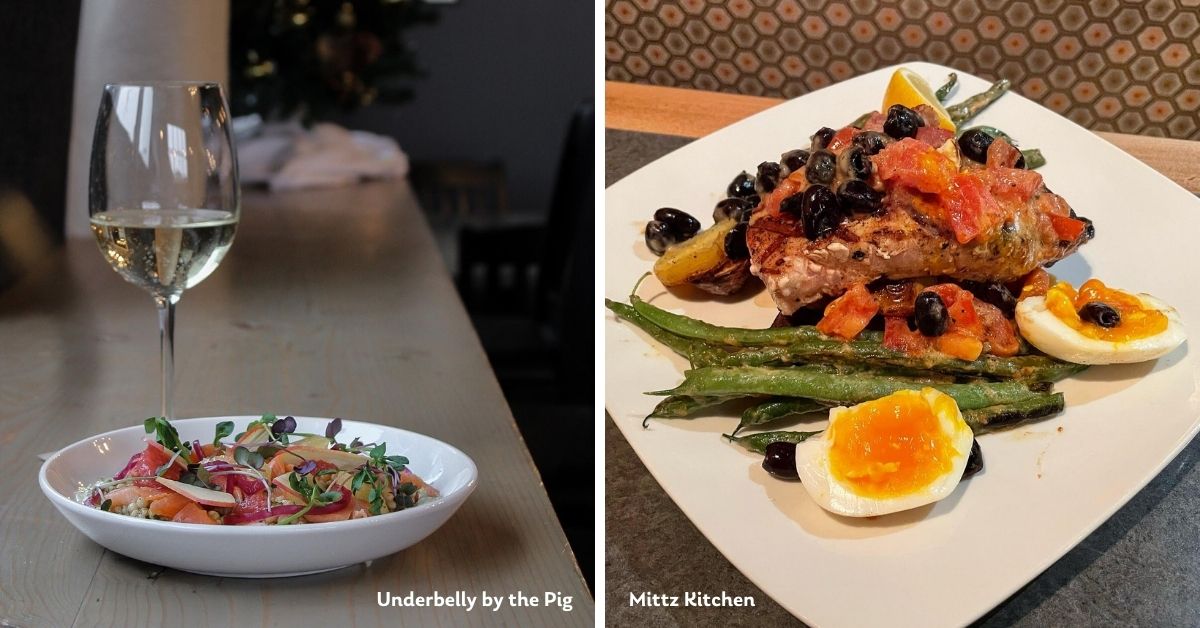 Underbelly by the Pig
For a taste of the Mediterranean, and a chic downtown vibe, head to Underbelly by the Pig. A sister restaurant to another Kamloops favourite, the Noble Pig Brewhouse, the Underbelly features shareable plates and hearty entrees with fresh, local ingredients and bold, creative flavours. And not to be missed, a very impressive selection of craft cocktails, local wines, and inspired brews.
Mittz Kitchen
Kamloops brothers Steve and Jeff Mitton are icons in the local restaurant scene with a combined 54+ years in the industry. Together with Chef Dave Rempel, they've created Mittz Kitchen, an upscale casual dining experience; the kind of place where you will want to hang out and partake in some libations, crushed grapes and tasty grub. Described as Canadian cuisine with local ingredients and global influences, we just describe it as damn good! And, they've just opened a second location, Mittz & Co inside the new Yew Street Food Hall.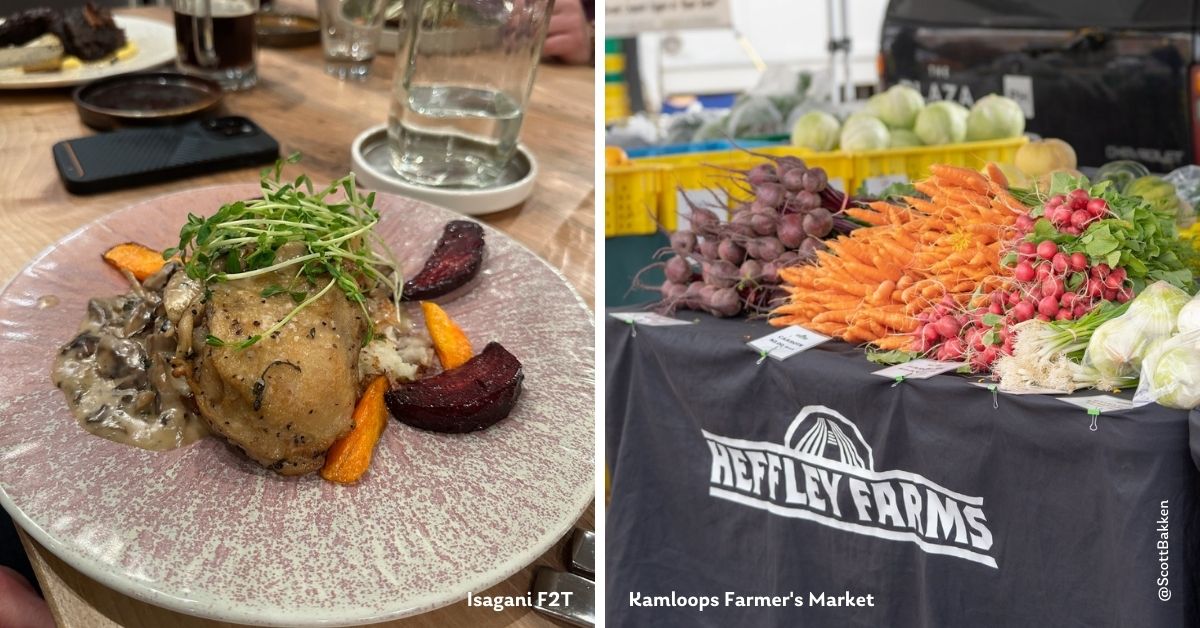 Isagani Farm-to-Table
If farm-to-table is your thing, Isagani Farm-to-Table is the newest addition to Kamloops' culinary scene. Their unique twists on classic rustic dishes feature fresh, local, seasonal ingredients. And of course, they have a great selection of local brews, custom cocktails, and BC wines to pair with your meal.
Kamloops Farmers Market
The Kamloops Farmers Market is a vibrant hub for all things local and fresh, held every Saturday and Wednesday starting in April/May. It is a bustling outdoor market that brings together farmers, ranchers, artisans, and other producers from throughout the region, providing visitors with the opportunity to sample and purchase some of the best that Kamloops has to offer.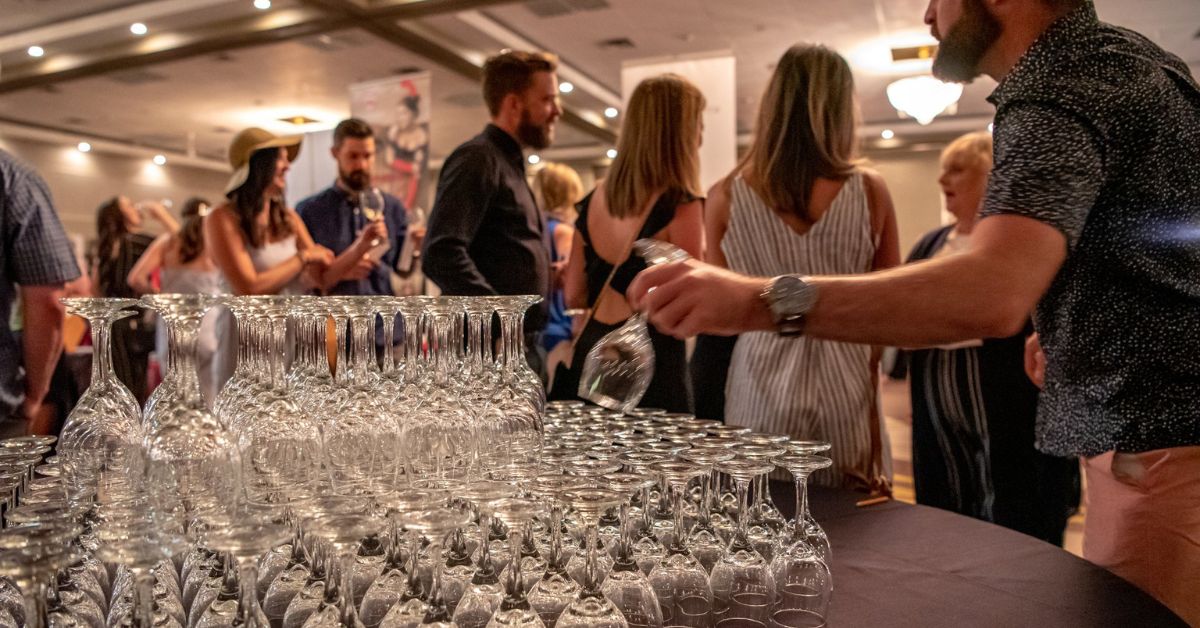 Mark your calendars, the Kamloops Wine Festival returns June 1 and 3 for its 25th year this spring. This festival is the perfect opportunity for wine lovers to sample some of the best wines from Kamloops and beyond in one place. Get your tickets today, as they won't last long! And if you can't get enough of the Thompson Valley terroir and want to take your wine experience to the next level, you can also book a Kamloops wine tour while you're in town. 
From award-winning wineries to the Kamloops Farmers Market and the innovative restaurants that prioritise fresh and local ingredients, Kamloops offers a full plate of options for every foodie and wine enthusiast to indulge in this spring.
So, what are you waiting for?