Kamloops isn't just a place to drive through. 
Growing up, my family had a place in the Shuswap and hitting Kamloops was always an internal marker that we were less than an hour away from the cabin. I never saw Kamloops as a place to stop other than to gas up the car before the drive home and grab some chicken strips with honey mustard sauce at the Triple O's IYKYK.
But boy do I love being wrong! Kamloops is not just part of a journey somewhere else; Kamloops really is a destination and has so much to offer its visitors. 
I had the pleasure of spending a weekend exploring this awesome little city. From fantastic wineries and breweries, to top notch dining, café hopping, mural sighting and thrift shopping, there is so much to do in Kamloops. 
Keep reading for an itinerary for a great weekend in Kamloops:
A weekend in Kamloops at a glance:
Saturday
Breakfast at The Art We Are

Winery hopping on the Kamloops Wine Trail

Lunch at the Terrace Restaurant at Monte Creek

Dinner at Underbelly

Cocktails at Stills Co Lounge
Sunday
Brunch at Hello Toast

Explore the Back Alley Art Gallery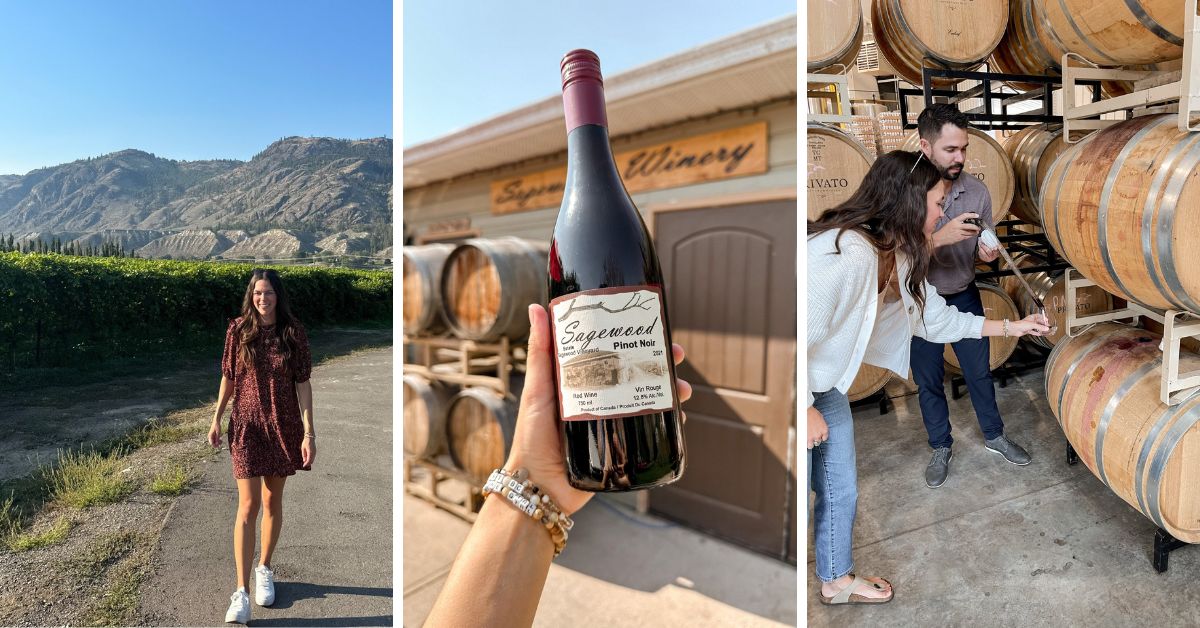 SATURDAY
Breakfast @ The Art We Are
Start your morning with a short walk to a local gem like The Art We Are where you can fill up on breakfast and caffeine to get you through a busy day of wine tasting! As the name suggests, the brick walls of this trendy spot are covered in beautiful local art. There is a crack in the bricks where people have started leaving tiny folded up notes which you can open and read, or add to the note collection yourself. This was such a fun surprise and I loved sipping on my oat milk latte while reading these beautiful little memories captured on paper.
Winery hopping on the Kamloops Wine Trail
Did you know that Kamloops has a wine scene? The Kamloops Wine Trail has three winery stops, as well as cidery to visit. There is some distance between the wineries so I recommend getting a ride with a tour company like Divine Tours, or selecting a designated driver. Our driver Glen from Divine Tours was amazing! He knows so much about the area, spreads knowledge about the landscape and wildlife of Kamloops as he safely drives you from place to place, carries your wine, and is flexible while still helping to keep you on time for your next stop. I highly recommend using Divine Tours for your winery day.
First stop, Privato Vineyard & Winery. Originally a Christmas tree farm, the owners of Privato fell in love with Italy and decided to turn part of their tree farm into a vineyard and live out those Italian dreams. Using grapes grown both Kamloops and parts of the Okanagan Valley, the wines are absolutely fantastic and totally deserve the tangle of competition award medals hanging from the bottles.
Here at Privato you can also try the ciders from Woodward Cider Co which is run by the three sons of the same family. The ciders are all made from 100% BC apples with some local fruit added in for flavour. I am not usually a huge cider fan but the ciders here were all super tasty!
While the wines and ciders were delicious, the customer service was spot on, and the grounds were absolutely stunning to walk through, my favourite take away from Privato is their community focus. They offer free music on weekends in the summer, concerts, comedy shows and other fun events like charity cornhole tournaments, a mother's day celebration, a pumpkin patch, and of course their Christmas tree farm. They have truly created an oasis that the whole community can enjoy.
Next stop, Sagewood Winery. About 40 minutes from Privato is another family run winery, Sagewood. Their wines are made only from grapes grown on their own family vineyard so the wines truly show off the unique terroir of their little spot in the Thompson Valley wine region.
Sagewood is an unsuspecting little winery. Driving past farm animals, you pull up to what looks to be a small home with a sign above the garage indicating that you are in fact at the right place. A garden and pond off the side of the tasting room gives off whimsical fairytale vibes and the tasting room is a tiny dark-lit room just off the side of their equally tiny winemaking facility. But there is something about an unassuming tasting room that I just adore. It's a way to let the wine speak for themselves—and that they did!
Sagewood's wines, labels, and the tasting room itself all share stories about the Wood family who own and run the winery. During my tasting, I sipped on a number of delicious wines, looked at family photos on the walls of the tasting room, teared up at sentimental stories they shared and truly felt the passion that Sagewood has for the land and their wines. The charm of this adorable little family run winery is absolutely infectious and I highly recommend visiting them to experience it for yourself.
A short 15 minutes from Sagewood is the final stop on the Kamloops Wine Trail, Monte Creek Winery, a big hitter in the Kamloops wine scene. Driving up to Monte Creek, it feels pretty darn fancy. A huge bell tower frames the side of Monte Creek's massive and stunning concrete tasting room covered in floor to ceiling windows overlooking their estate and Lion's Head vineyards. A winery this grand can sometimes come at a high price tag but not here! Most wines are within the $20 to $30 range which is seriously impressive and easy on your wallet.
Monte Creek produces wines from their two Kamloops vineyards, their vineyard in Keremeos in the Similkameen Valley, as well as with grapes from the Okanagan Valley. They own over 100 acres of vines which is vastly different from the 6 acres of vines owned by Privato and the 3.5 owned by Sagewood. This gives Monte Creek the ability to produce a lot of different varietals and blends at a much larger scale. I enjoyed every single wine that I tasted at Monte Creek from the unique varietals like the Frontenac Gris to the more traditional grapes like Chardonnay and Cabernet Franc. 
Sustainability is a high priority to Monte Creek. They have been practicing organic farming for years and are expected to get their official certification very soon! 
If you are wine tasting at Monte Creek you can grab a snack and enjoy their outdoor picnic area. But if you have the time, I recommend having lunch at the Terrace Restaurant which is open seasonally from May to September. Offering a casual but tasty menu and views that are somehow even better than in the tasting room, the Terrace Restaurant was the perfect way to cap off an afternoon spent exploring the Kamloops Wine Trail!
Dinner @ Underbelly by The Pig
Following a day on the Kamloops Wine Trail, a hearty dinner is a must. There are a number of really good restaurants in downtown Kamloops but we settled on Underbelly, which is a slightly more upscale sister restaurant to the popular Noble Pig Brewhouse nearby.
Underbelly focuses on creating seasonal dishes with locally sourced food and they sure delivered! The food was absolutely delicious—the dressing on the Ponzu Steak Salad was completely addictive—and as a bonus they have a wine list loaded with local BC wines to pair with your dinner.
Nightcap @ Stills Co Lounge
A newer hotspot in town, Stills Co Lounge is the perfect vibe to end an epic day exploring Kamloops. With a focus on tapas and a fun cocktail list with cheeky names, it's a great spot to wind down for the evening. 
___________
SUNDAY
After wine tasting all day Saturday, a relaxing Sunday morning is the perfect way to rest up before you tackle the drive home. 
Brunch @ Hello Toast
Can you go to Kamloops and not go to Hello Toast? It came highly recommended by everyone I came across and for a very good reason. Jam packed with tables and serving drinks in plastic cups reminiscent of a high school cafeteria, the inside is nothing special but the food is insanely good. The Incredible Hulk Benny (add back bacon) was possibly the best eggs Benedict that I have ever had. Hello Toast has been a staple in the Kamloops community for over 20 years and I can definitely see why. This is a must visit!
Afternoon Stroll @ The Back Alley Art Gallery
Before the drive home, make sure to walk off that big ol' brunch while searching for incredible murals throughout the Back Alley Art Gallery. With 30+ murals around downtown Kamloops, you can get some steps in while enjoying beautifully creative artwork. I really wonder why more cities don't do this—it brightens up otherwise plain city walls and is a great way to get people to explore a town by foot.
When exploring Kamloops, there are plenty of options for accommodations but I have to say, staying at the Sandman Signature Hotel in downtown Kamloops was perfect. You could not ask for a better location with being walking distance to all sorts of cafés, breweries, shops and restaurants, and the hotel itself was great. The beds were so comfortable that I accidentally slept in until 10am which hasn't happened in the last decade. I would absolutely stay here again!
Overall, Kamloops was a big surprise. From the wineries and breweries to their restaurant scene, murals, thrift shopping and so much more, there really is something for everyone in Kamloops. I can't wait to come back and explore more! 
Have you spent time exploring Kamloops?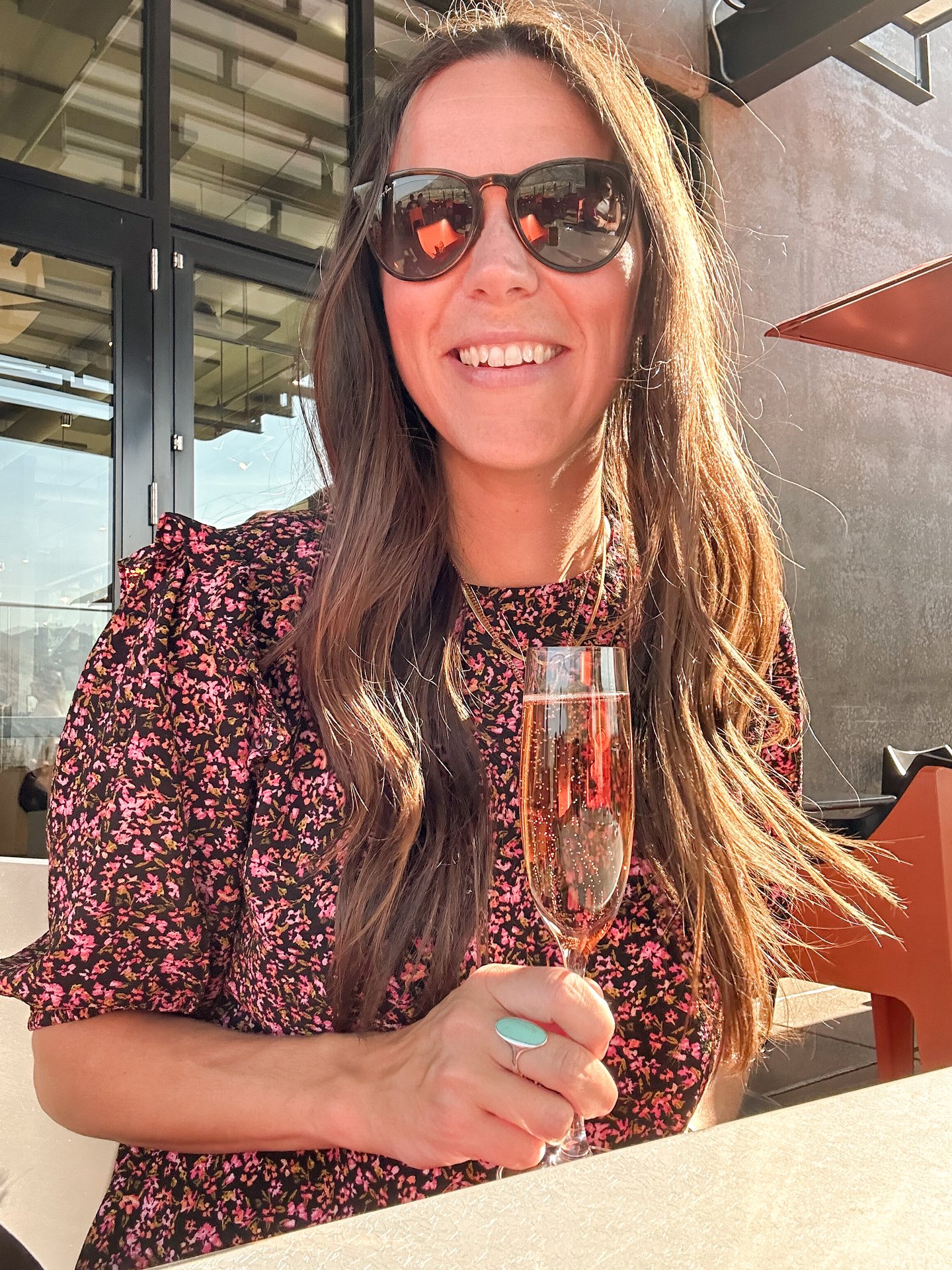 That BC Wine Girl
Guest Author
Born and raised in Langley, Jenna White is the proud wine enthusiast That BC Wine Girl! With a focus on exploring and promoting the amazing things that the local wine industry has to offer, her love of wine and travel are constantly invigorated thanks to the incredible wineries across BC. Join That BC Wine Girl as she explores our own Thompson Valley wine region.